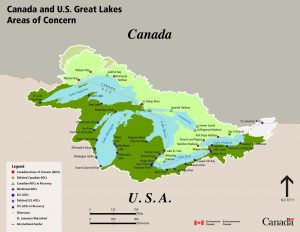 Environmental degradation in the Great Lakes basin has been a cause of concern to residents of this region for decades. It's the reason the Canadian and American governments signed the Canada-U.S. Great Lakes Water Quality Agreement (GLWQA) in 1972.
This agreement committed both countries to work together to "restore and maintain the chemical, physical, and biological integrity of the Great Lakes System".
In 1987, Canada and the U.S. formally recognized 43 Areas of Concern (AOCs) around the Great Lakes: locations where local environmental degradation may be causing harm to the wider Great Lakes system.
Amendments to the original Great Lakes agreement committed governments in Canada and the U.S. to cleaning up Areas of Concern.
LEARN MORE