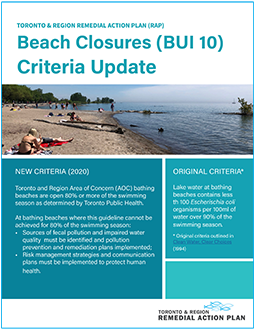 The Toronto and Region Remedial Action Plan (RAP) has updated the de-listing criteria for Beneficial Use Impairment (BUI) 10 – Beach Closures.
The proposed new criteria were developed with input from the Beach Closures technical working group, and the Toronto and Region RAP team, both of which comprise experts from all three levels of government.
The proposed new criteria are as follows:
"Toronto and Region Area of Concern (AOC) bathing beaches are open 80% or more of the swimming season as determined by Toronto Public Health.
At bathing beaches where this guideline cannot be achieved for 80% of the swimming season:
• Sources of fecal pollution and impaired water quality must be identified and pollution prevention and remediation plans implemented.
• Risk management strategies and communication plans must be implemented to protect human health."
LEARN MORE ABOUT THE RATIONALE BEHIND THE UPDATE.
Would you like to provide comment on the proposed criteria? Email Valerie.francella@trca.ca.